Friday, November 20, 2009
Updates Are Coming
This was on the It's A Small World Ride at Walt Disney in FL. Yeah, He doesn't like puppets, large stuffed animals, or people dressed as either.

Does this child look like he's in time out! LOL He's getting so big!
posted by Tre's Mom @ 11:17 PM

Saturday, April 11, 2009
New Diagnoses...New Way of Living?
What does this mean?

So we went for his feeding evaluation yesterday. He still has a delay with eating. I've tried as many tips and tricks that I can think of but he's still having problems with solids. Each time he gets a new therapy team, feeding is always their last priority. I had to take matters into my own hands to get him set up with a new therapist for feeding.

IIt wasn't a good day. As luck may have it he wasn't quit himself. He may be coming down with a cold and/ or he woke up early (4a - 5a)talking to his friends (Elmo, Ernie, etc.) He was extremely lethargic and not in the mood for much. I didn't want to push him but I needed them to see

something

and hear our concerns. One concern is chewing. He doesn't chew and I'm worried about him choking, not at the "correct texture" for his age, and not receiving the proper nutrition.

During his feeding he gagged a little. I think it was due to his coughing (he was congested). Needless to say they want him to get a modified swallow study to be safe. Not a problem. I would much rather get this done and over with so we can have an updated record.

After the evaluation the developmental pediatrician examined him. She determined that he showed signs of cerebral palsy. We were instructed to get a follow up with a specialist for a new care plan.

Those words sent a chill down my spine but despite this prognosis I have a sense of relief (at least for now....) It answers a lot of questions; mainly why he isn't walking. Sadly, though we have something else to add to his list...however cerebral palsy may counter a few. Humm?

While many questions are being answered it brings another: Why hasn't this been seen before? Need more resources....

Labels: cerebral palsy, courage, diagnoses, disability, doctor, prognosis, strength
posted by Tre's Mom @ 1:00 PM

Tuesday, March 17, 2009
M-I-C See You Real Soon
So we are preparing for a family vacation to Florida during the first week of May. I am "worried" how he will react to the Disney characters. He doesn't care for people dressed in costumes. He does like large stuffed animals for that matter. I wish I knew how to better prepare him for it.

I took him to Kmart this week. As soon as I seen the Mickey and Minnie Easter lawn decorations, I instantly took him closer. The first thing he said was, "I don't want it!" Goodness this is going to be interesting.
I don't want to ruin his vacation but I also want him to face his fears….

Labels: Disney, Fear, Florida, Make a Wish Foundation, Phobia, Vacation
posted by Tre's Mom @ 4:12 PM

Monday, March 16, 2009
First Day of School
This was us celebrating the night before at Applebee's.

Victor better known as Tre` is growing up. Sigh

He loved school and they loved him back! He already made a friend and I can only imagine how many are to come. I opted out for busing. I wanted to take him to and from school for a while first.

We are currently working on getting him a gait trainer (walker) however his new PT would like to see him in use for a while. I don't care for too much because he's been on a "trial" for the longest. In day care he used their gait trainer for 2+ hours...now she wants to see him for 20 minutes. Urgh! Patience!

I am sooo proud of him. Yes, it's only preschool but I love it all the same. Today preschool tomorrow middle school. Middle school!!!!!!!!


Yeah...soooo...umm yeah he's a clown. Don't ask me why he decided to put a diaper on his head.

Labels: friends, gait trainer, photo, preschool, school
posted by Tre's Mom @ 3:00 PM

Saturday, March 7, 2009
School Daze
So Stinka Man is at the appropriate age to start school. It took a lot of convincing me because I still saw him as my baby and not my toddler. It's time to cut the strings and watch this child of mine do what he does best, strive.

We were given a few options for various schools. All of them were schools for special needs. After touring and turning my nose up I realized that Tre` doesn't need to be in these schools. He's delayed, speech issues, has a G-Tube (only used for administering medication and overnight continuous feeds), and he can't walk. The main factor is that he's delayed and maybe speech.

My belief is that they read his report and thought they would be enlisting a train wreck. Not knowing how quickly he catches on to things, counting to 20, saying (singing part) of the alphabet, and MUCH more. If he's directed he will go. My theory is that he will get a one on one (a teachers aide for himself), therapy, and that's all I can think of. This all can be provided by a public school. If additional therapies are needed, it can be done.

Its a shame that I had to explain that my child is not to be afraid of. He's not the 25 wker he was three years ago. He's a toddler that just needs a little help getting by. In my heart of hearts I believe all these things will pass. If it takes a year to 40 years, I'll be right here.
Labels: delayed, education, learning, preschool, school, smart
posted by Tre's Mom @ 6:30 PM

Friday, March 6, 2009
We're Baaack!
So Tre` is home and everything has subsided...kind of. The antibiotics does not agree with his stomach. Explosive. No warning, no scent. It's just clear one minute and flooded the next. He's able to resume all activities.

Before he was hospitalized his day care sent a review form. While I always gave them high marks they were skating on thin ice. I told them how I didn't appreciate a nurse making decisions that a parent should make (the leg brace.) I also told them my other issues. So the day he returned the day care called saying that his doctors note cannot be accepted due to the fact that the notes was signed by a nurse. Really? I never had that issue before. HUmm... Then his bus driver informed me that he could not return the next day because he had a fever of 101.5 and was given Tylenol to lower his temp. OK, I'm going to make it plain. Tre` does NOT get tempts. While he was hospitalized and the time leading up to it he NEVER sparked a temp. NEVER. How ironic. It's also ironic how he was so energetic and ready to eat when he got home. I don't think that he had a temperature and neither does his dad.

We are working frantically to get him out of there. Stay tuned for updates.
posted by Tre's Mom @ 1:49 PM

Tuesday, March 3, 2009
Doctor's Note (Updated Again)
Tre` has been doing so well that the team decided to discharge him. He was able to tolerate room air (no oxygen), weaned fluids, and being active.

So it appears that this started from the flu. When he coughed it gagged him and he would vomit. Being that he can't walk or pull himself up quickly, the doctors suspect that he swallowed some of his vomit and that's what cause the pneumonia.

There's no question as to how he got sick. I could never understand why some people send their children to school (intentionally.) I understand wholeheartedly that these days and times are hard and people need to work. However, when you put your child and other children's life in danger…you're an idiot.



I've seen children at school coughing with a snotty nose. Seriously? Whenever I see children that appear to be sick, I inform the staff that he/ she will NOT interact with Victor (Tre`.)

Pennsylvania got a few feet of snow…from what I understand my area (in NJ) got 12+ inches…..

Labels: chop, cold, discharge, er, fighter, flu, parenting choices, pneumonia, sick, snow storm, update, worried
posted by Tre's Mom @ 7:38 AM

About Me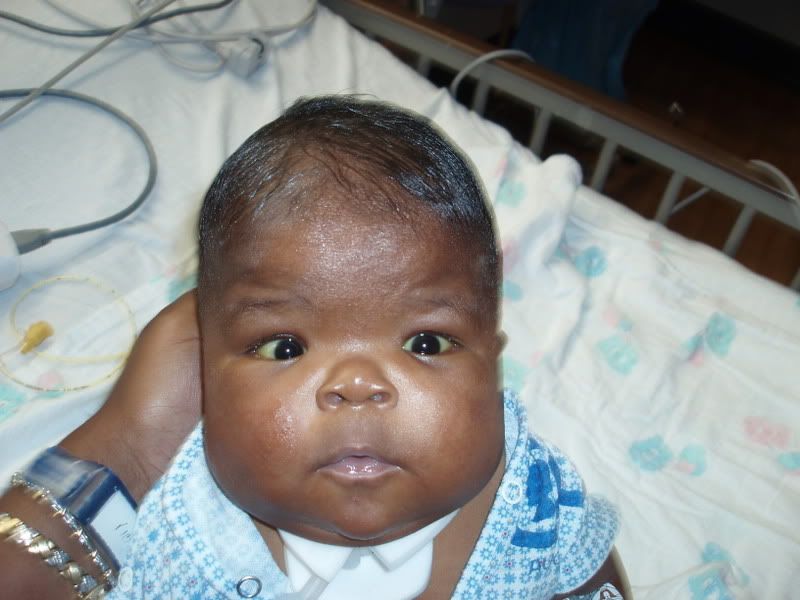 Name: Tre's Mom
Home: The Jersey Shore, New Jersey, United States
About Me:
See my complete profile
Previous Post
Archives
Tre's Friends
Links
Template By