Sunday, December 31, 2006
Happy New Year!
In order to get to tomorrow we have to make it through the night.


Always pray. Pray every morning that you do not live ungodly, that you will not mistreat yourself or your neighbor, pray that you will not become weak and discouraged for that day. Tell Him that you will hold on until tomorrow. When tomorrow comes you say the same prayer. Every night thank God for the wonderful things He's done for you.

Don't be bothered about yesterday, it's already gone. There's nothing you can do about it. And tomorrow isn't here yet. Just don't give up today.
Everyday is always today, my friends.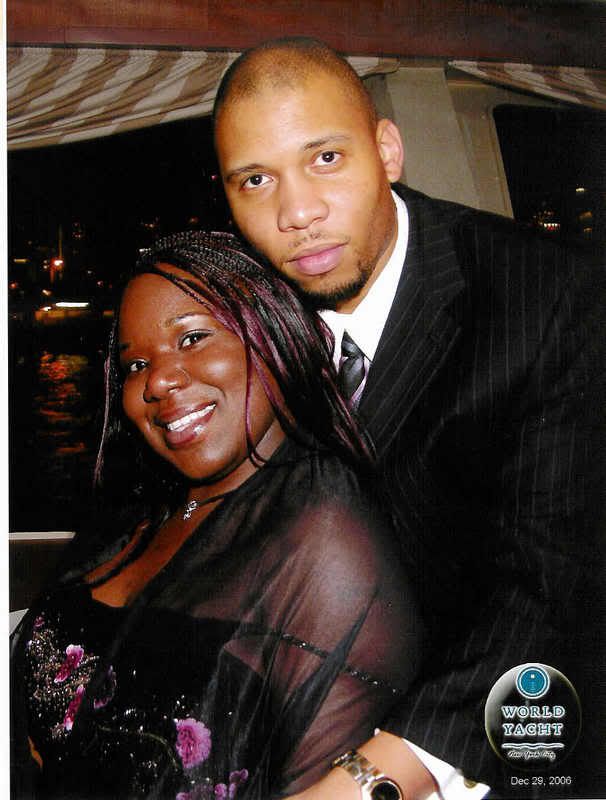 I'll be back next year!











posted by Tre's Mom @ 5:46 PM

Wednesday, December 27, 2006
On this day.
On 12/27/2005 I went to see my high risk prego doctor and he informed me that I would HAVE to go on bed rest to prevent more dilation. I told him that I been on bed rest this entire time. I may have moved around more than I needed to but I am already on bed rest. That's when the ball dropped. He informed me that I would be on hospital bed rest.

Scared, nervous, confused I started to think of how I can either talk him out of it or fix my problem. I was already too late for a cerclage. He said that Vic and I would either drive across the street to the hospital or he could call an ambulance.

This was the last picture I got of Tre` with an U/S.




I cried for so many reasons. I cried because I was scared. I cried because I knew no one will stay with me. I cried because I hated hospitals. I cried because of many things. I even cried because I cried.

Vic took me to the hospital where I was admitted into antepartum. With all my crying, hormone going from left to right, and feeling "pressured"; I had an instant attitude. I was mad at Vic because I felt he wasn't as moved as I was, I was mad a the doctors for not "fixing" this before it got out of hand, I hated myself because I got up to go to the bathroom too many times, I was mad at the nurse that kept talking to me. I was mad because I was mad. I demanded that I had my own room. I was in no room for company and I think I made it clear.

Once my room was together I lay in the bed and asked Vic to close all curtains and blinds. I didn't want to be reminded that I was now a prisoner or that I was in the hospital. Those curtains would remain closed until my departure.

At first we were quiet. He didn't say much to me and I didn't say much to him. Partly because I wanted to be comforted. To no avail we stayed silent until nurses, doctors, student, house keeping, etc. Came in with a bunch of questions.

Once the doctor from the NICU came to visit me and spoke of a survival rate by heart skipped a beat. The term "rate." echoed like, "yeah rate as far as a measurement, a part, a ratio, not everything!" We immediately went looking for survival rates and from what we saw DIDN'T look good.

A pregnancy that I loved so much was starting to seem like it will be over soon and I would have nothing to show for it. I had no huge belly, swollen ankles, baby shower, etc. None of that. I wasn't even pregnant long enough to get the standard glucose test.

On 1/6/2006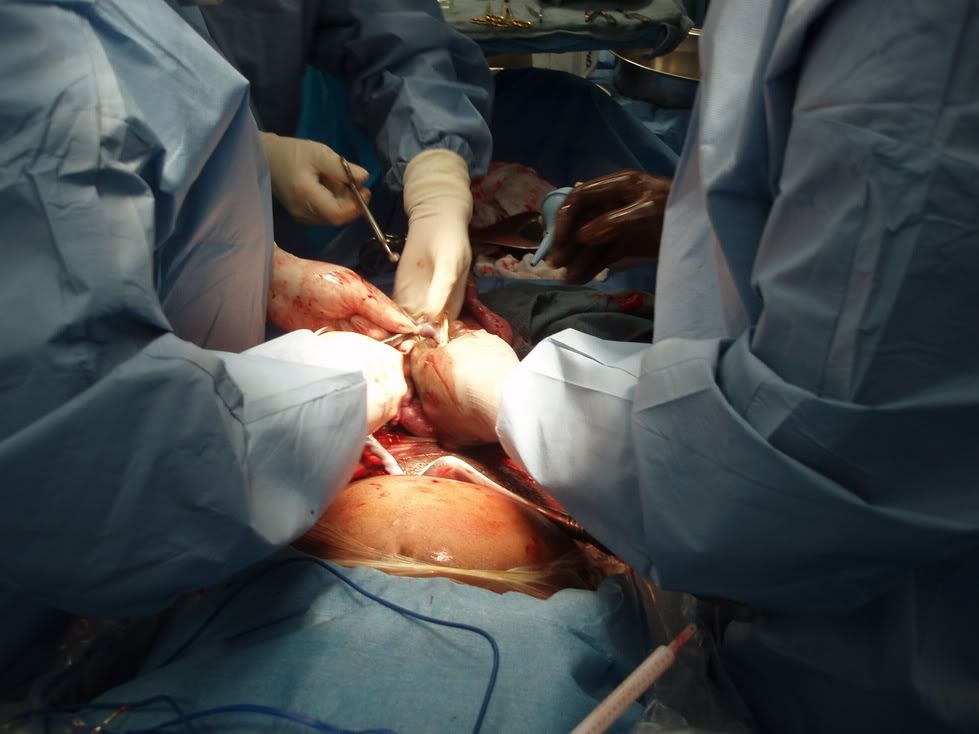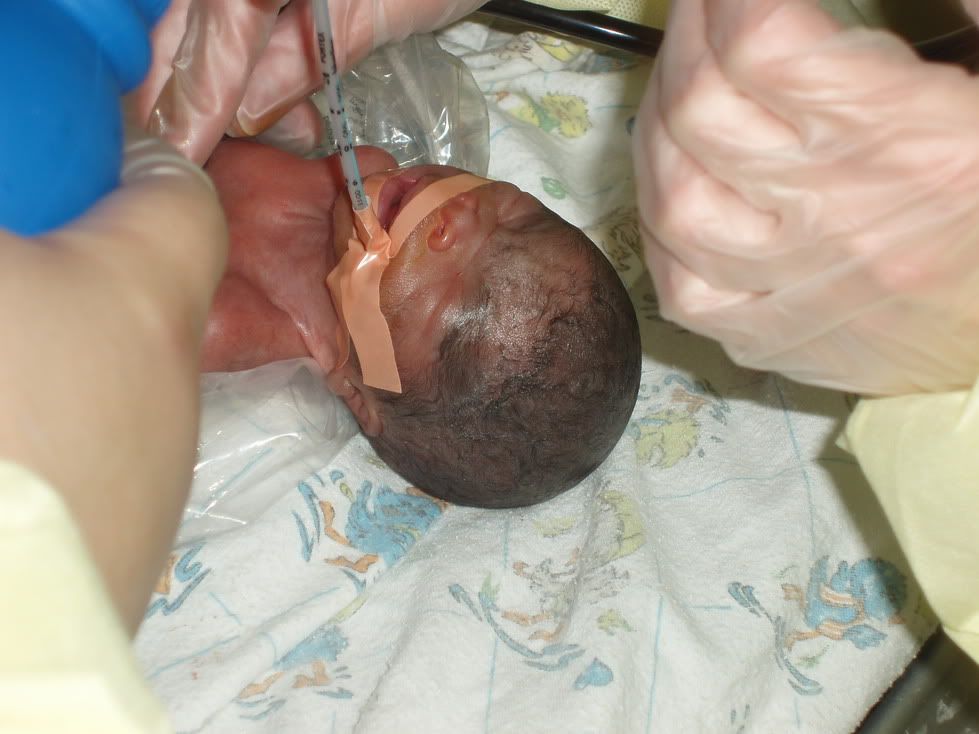 I could go on and on about my NICU experiences and adventures in antepartum but I'll save that part for later.

posted by Tre's Mom @ 11:21 PM

Monday, December 25, 2006
Merry Christmas
Please remember that
Christmas
is not a holiday but a celebration of the birth of Christ.

Happy Birthday Jesus!!!!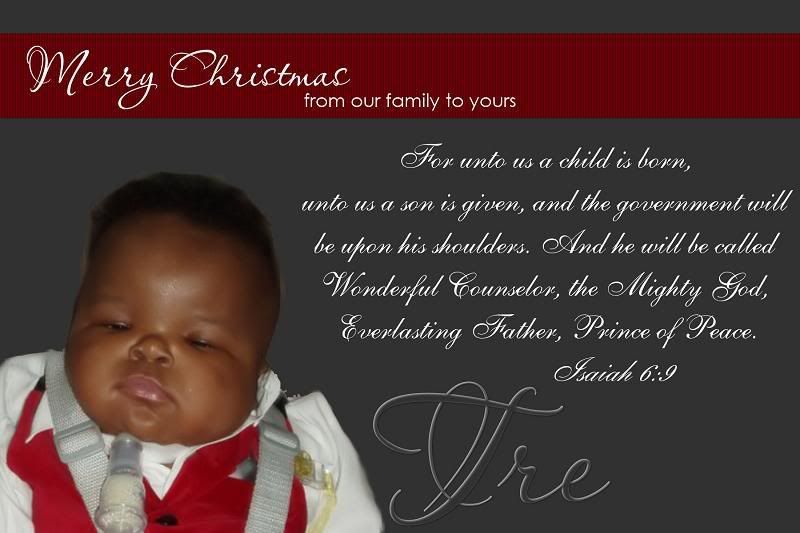 posted by Tre's Mom @ 5:26 PM

Thursday, December 21, 2006
Secret Santa
Last night when DH came home we greeted each other with love and he proceeded to put down his laptop and take off his jacket. He went upstairs to play with Tre` while I came into the office to get all the phone numbers and information needed to make doctors appointments, insurance calls, etc. Once I got everything together I went into Tre's room to watch him and his daddy make faces and "coo" at one another. I LOVE to see the two of them interact with each other. I love the boys.
Click on these thumbnails.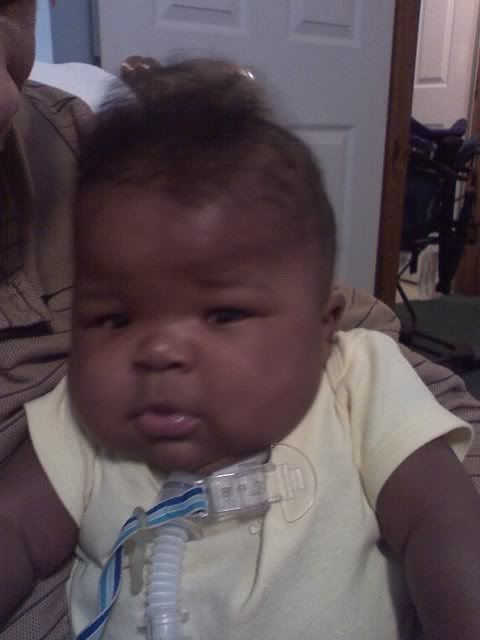 Shortly after playing with Tre` he went to walk then feed the dog. Out the blue we heard BOOM BOOM BOOM. Someone was knocking on the door. I heard Vic open the door then I heard nothing else. I walked the office, cautiously. I don't know why but I didn't know who was at the door and didn't know if I wanted to know. Anyway, so I went to the door and seen Vic standing outside dumbfounded with a laundry basket full of "things." I went outside to get a better look and I saw wrapped and unwrapped Christmas gifts, household items, etc. I asked him where it came from and he said that he didn't see anyone. I looked around but he said that he saw a car up the street start up and drove off.

He brought the basket inside and we immediately inspected it. Just to name a few items: a two foot Christmas tree, ornaments, a wrapped gift for "dad" from "Santa", a wrapped gift for "mom" from "Santa", wrapped gifts for "baby" from "Santa", a Christmas card with a gift card enclosed, toiletries, food, Christmas themed kitchen utilities, etc.

I have no idea who could have done this but it REALLY made my day. I am forever grateful for this. God has been good to me.

Here's the basket

posted by Tre's Mom @ 12:05 PM

Wednesday, December 20, 2006
The Great Escaped?

He went for his synagis, flu shot, and physical yesterday. I felt so bad for him. I have been in the room with his during a few procedures and seen blood flowing. I even check his blood sugar! Once I seen the needle, I immediately closed my eyes and braced myself. As soon as he flinched I flinched. I held him the entire time!!! He cried and to rebuke from embarrassment I just kept silent. I wanted to cry with him. During his visit the doctor recommended additional specialist to follow Tre`. Oh great. Luckily, he didn't think anything was wrong but he wanted to see that everything was ok.

He's putting on weight but he's still a gnome. He weighed in at a hefty 19.6 pounds and 26 inches long. I think he'll be an elf for next Halloween. I have to grasp a good chart to see exactly where he stands.
We might have more time before we have to choose between opting in or out of the Nissen Fundoplication surgery. I'm not sure if I can say they we escaped this one or not. With his reflux during his MILK scan showing 30x the doctor originally said that he, meaning Tre`, is ready for a nissen. He met with his colleagues and it was decided that they make altercations on his medications and introduce a new med named Bethanecol. Bethanecol is supposed to help with reflux as well as his floppy airway. I have tried to look into this new med and this is what I found. I'm sure it's used for other things as well.
Bethanecol: A slowly hydrolyzed muscarinic agonist with no nicotinic effects. Bethanechol is generally used to increase smooth muscle tone, as in the GI tract following abdominal surgery or in urinary retention in the absence of obstruction. It may cause hypotension, cardiac rate changes, and bronchial spasms.

We had an evaluation for his PT, OT, and Speech from EI but we haven't gotten any word of when and where it shall begin. People keep saying to be patient and that's what I'm going to do…for now.

He's having a great day besides this off and on crankiness due to teething and having shots yesterday. I think it's time for him to wake up from his nap so I gotta run!
posted by Tre's Mom @ 5:37 PM

Monday, December 18, 2006
How The Stress Stole Christmas
Last year around this time, the exterior of my house would be covered with bright white blinking lights, green garland, and big burgundy bows. Inside our home you'll hear The Temptations Christmas playing loudly. In addition you'd find EVERY room; including the bathroom decorated with burgundy, gold, and some green.

Today, I walked around the house and I heard no Christmas music, no blinking lights, no puffy ribbons, no burgundy velvet bows, no gold trimmings, nothing. I wanted my son to really experience Christmas and what his mom and dad use to take the time to do together and create a masterpiece. Oh yes, I pride myself on how well our home looked for Christmas. To me, our home looked the best I've ever seen, INCLUDING in magazines. However, today I saw no happiness but emptiness.

Christmas time for me isn't so much about the décor. It means so much more to me because it's the birth of Christ my Savior. This is just a reminder to me how much stress we have been under. We haven't had the time to set MORE time aside for ourselves.


Ok, I'm getting mushy again so this must mean it's time for me to go.






posted by Tre's Mom @ 11:49 PM

Sunday, December 17, 2006
If it's not one thing it's another
It's been almost a week since I've posted. Tre' has had two apnea episodes in a week's time. I don't know if it has anything to do with his heat moisture exchanger or not but both episodes accrue after he has been off his vent heater for a long period of time. He never dropped his saturations below 97, his HR stays baseline, and he's showed no signs of distress.

His vent monitor kept ringing apnea, repeatedly. I suctioned him once and got nothing out. That's typical. However, I suctioned him again using saline and I pulled a small mucus plus out his trach. Once I reconnected him the apnea alarm desisted. This happened BOTH times. I have notified his doctor and explained everything. He's more concerned about the apnea than anything else. That's rightly so but we still don't know why it has happened or if it will happen again. Still, he cannot explain it and his only suggestion was to "watch."

For the last 24 hours (or a week after apnea episodes) his monitor has been registering him deSating into the mid to lower 80's. Again looking at him he looks "pink." He's moving air, no nose flairs, happy, just fine. His nurse said this morning said that she noticed theses deSats only during coughing spells that may be related to reflux. I can take that into consideration because he refluxed 30x during his MILK scan on the 11th. HOWEVER, during these daSating occurrences, I observed no coughing. This really boggles my mind. Just looking at him, he looks essentially normally but his monitors tell me a different story.

Within the next two weeks, Vic and I will have to discuss another possible surgery. Apparently, the results of his MILK scan gave his doctor grounds to call me and make a suggestion of a Nissen. This was something we have been trying to avoid for sometime now. When he got his G-Tube his then doctor recommended a Nissen but no other doctor found it necessary at the time. Now that the term Nissen is back and haunting me, I find myself "drowning."

He has had so many surgeries and while some may think I'm use to them, I am not. I never have and possibly never will. This is my son I'm talking about. He's a part of me. He's my flesh, my blood, my only son, and I am his only mother. I feel helpless. My baby can't tell me when something hurts him and I could barely hear his cries above his trach. Before I get too emotional, I will leave this as it is..
This is a thumbnail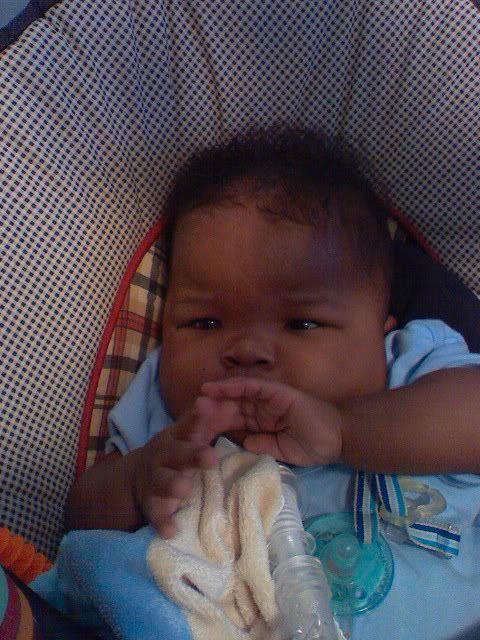 posted by Tre's Mom @ 10:38 PM

Tuesday, December 12, 2006
Tummy Time Vs. IVH Grade IV?
Tre` doesn't really like being on his tummy, anymore. When he was smaller he'd LOVE being on his belly. If it was left up to him he'd live there no questions asked. After his trach, he was put on his belly a lot less because he needed to "adapt" to his new form of breathing. Then after the trach came the G-tube and he needed to "adapt" and heal some more.

Today, if he's put on his belly it's a fight to the finish. He would only last about two to five minutes TOPS before he cries and fusses. I'm talking REAL tears!

He's way behind in the tummy time so much so he can't lift his upper body and he barely turns his head in this position. I have been trying him out more and more but I'm not seeing any improvements. To make matters even worse I don't know if we're talking late development or his brain injury, hydrocephalus (IVH Grade IV/ severe).

It's not easy when you don't know. I'm constantly doing research on IVH Grade IV, but I feel like I'm alone with it. Luckily, not too many kids have this grade of brain bleed.
I found a somewhat detailed summary of Grades I through IV.
Intraventricular Hemorrhage
How will I know if my baby will have long term problems?

This can only be determined over time by monitoring his/her development. For this reason it is important for premature infants, especially those with IVH, to have their development followed carefully after discharge. Serious abnormalities that may appear are:

motor (movement) problems:
tight or stiff muscles
slow to crawl, stand, or walk
abnormal crawling, toe walking
moving one side more than the other
frequent arching of the back (not just when angry or at play)

slow mental development:

does not listen to your voice by age 3-4 months after hospital discharge
does not make different sounds by 8-9 months after discharge
doesn't seem to understand or say any words by 12-13 months after discharge
seizure also called convulsions
deaf
blind
Less serious problems appear more slowly, are more difficult to detect, and may not be obvious until preschool or grade school. These can include:

poor coordination or balance
specific learning disabilities (math or reading)
very short attention span
behavioral problems
difficulty with activities that require coordination of the eyes and hands, for example, catching a ball or copying a simple drawing
need for glasses

I'm the type of person that just can't leave things alone and accept what has been told to me. While he was in the hospital they told me that he may not walk, play, etc. They were wrong about a lot of things besides they aren't his parents and obviously they don't believe. I am praying that my son lives a comfortable life. Not to accommodate me but to allow my son to thrive and grow for himself. I said in a prayer that I will take my son anyway I can have him…alive. I still stand by my word with that, too. I believe he'll catch up. Better late than never.
Click on this thumbnail. We have 2 trouble makers!!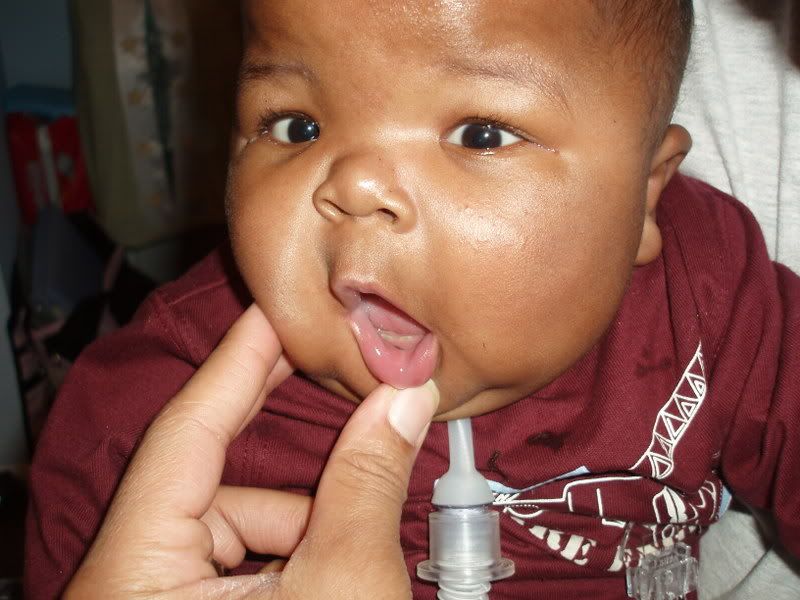 posted by Tre's Mom @ 4:53 PM

Saturday, December 9, 2006
Apnea?
So, Wednesday the 6th, Tre` had a GI appointment. We were supposed to get there at 1:30 and ended up getting there at 3:15. It's hard to get all of his equipment and him situated when we go out. We have a Go Bag, which consist of trach supplies, first aid equipment, etc. It's about the size of a standard carry on. Then we have the diaper bag, his wheel chair, a portable suction machine, PulseOx monitor, his vent (which weighs a ton and has to be carried by one person while the other carries him. ), a toy (it's a necessity), and Tre`. Not to mention the fact that it was cold. All this has to go WHERE EVER he goes. We don't take the heater; he wears something called a heat and moister exchanger. It's supposed to keep the airway moist and warm so his secretions aren't thick and plugy.

He got a MIC-KEY button placed instead of the standard G-Tube. We weren't sure if it was a go because his stoma had to be dilated twice already in preparation for the MIC-KEY. The doctor took one look and said it was a go. Surprisingly, he showed no signs of pain. It went in smoothly with very little blood. I like it a lot better because it's less likely to get pulled as Tre` learned to do. It's also less noticeable to onlookers.

We got home at about 7:15. I stayed inside to undress and change his diaper while HD went back and forth unloading the truck. His vent alarmed apnea. I lifted his shirt to see what was going on. His PulseOx monitor had his SATs at 100 and his HR 150's. Looked great, however, he was pulling a lot more. I started to talk to him to get some reactions and again he was fine. The alarm kept ringing apnea while his rub muscles went up and down so hard I can clearly see his stomach, liver, and spleen (enlarged liver and spleen from damage).

I called out to my DH. "Hey Babe." He didn't respond. "Babe!" I was more annoyed. "Yeah, what's up?" He finally heard me. "Wash your hands and come in here." I said. "Is everything ok?" "His vent is reading apnea, honey." So he ran upstairs and to the bathroom to wash his hands while I described everything I seen and see. DH check all tubing while I checked Tre`. Everything was were it was supposed to be. To keep us both calm I decided to suction him. I went down and got nothing back. Normally, we go down to 10cm. I couldn't feel anything and I looked to see that his SATs went to 95. I went down to 11.5cm (I wouldn't recommend anyone doing it unless necessary!) I pulled some THICK secretions. I went down again and pulled more out. I put some saline down his track and pulled out two large plugs. After going back I didn't get anything out. I'm happy he ok and that I didn't have to lavage him.

His vent stopped alarming and I called the on-cal at his Pulm office. He basically said that he's not sure if the plug had anything to do with the exchanger. The only thing he really worried about is the apnea.
posted by Tre's Mom @ 11:41 AM

Monday, December 4, 2006
Hey Tre`…look down here
So I'm feeling a little down (I won't go into details). Tre` has been doing well for himself. Little to no wheezing and coughing spells since the last week of November. He has been sleeping for most of the day so he's probably going to try an all nighter.
His gums have been so achy. He gnawed and his fist and fingers and anything else that he's handed. Which brings me to my next dilemma; I have noticed that Tre` has a coordination problem that I didn't realize until recently. Tre` was diagnosed with ROP and had laser eye surgery in both eyes. After every doctors visit, I was told that his eyes are "good" or "fine" However, while he's gotten frustrated with his gums I try to keep him with his noonie STATS! While he's demanding his noonie I took it upon myself to squeeze in a little therapy. So, I would give him his noonie in both or one hand and wait for him to put it in his mouth by himself. It went to his nose, in between his eyes, and his forehead and never his mouth. He would get SO upset and cry so I'd assist him. Then he'd accidentally pull it out his mouth or it would fall and again…he just couldn't get it in his mouth. We did this about 10x and the results were the same. I gave him his pacifier and grabbed his favorite toy. I watched him trace it slowly. Left-check, right-check-up-check, down-BINGO. Once an item is below his nose he either doesn't acknowledge it or he doesn't see it. I'm going to do a few more trials then I'm calling his opthamologist.

Well that's it…for now.

posted by Tre's Mom @ 7:47 PM

Friday, December 1, 2006
We have some catching up to do.
So, Tre` was evaluated by Early Intervention today. The meeting took about four hours as we went over all his delays. I knew he was behind but to hear her call him, mouth the words, 5 months (I'll go into detail at the bottom because it gets worse.), was a little aggravating. However, me being me I quickly realized that he's been a great. With all his surgeries and illnesses he's far ahead than what a lot of babies in his situation would be able to do. That was no doctor's script. No therapist recommendations. That was God and a little TLC from his mom.
We have a lot to work on for the next six months. His upper body strength, He needs to life his upper body, sit completely straight supported or unsupported, his leg/ foot strength, eat by mouth, roll from side to stomach, and more.

Area Evaluated, Current Development Age Level
1. Cognitive, 5 months
2. Communication, 2 months
3. Social/ Emotional, 5 months
4. Gross Motor, 2-3 months
5. Perceptual/ Fine Motor, 5 months
6. Adaptive Self-Help, 3-5 months

For his hardest levels I plan to take my own course of action for him. I don't want to push him too much but I'd love to see how much I can help him. As far as the Communication, that's probable hard for me because of his trach. I can give him 60 second trials on a speech valve until tolerated but I'll see. I want to start teaching him basic sign language, too. He's at the age where he should be able to mimic so I can each him mommy and food/ eat. The Gross Motor skills might be a little tricky as well. I think we can handle it as well. He HATES being on his stomach. He started to hate it once he got his G-Tube. I can slowly "trick him" on his belly by laying him on his side over my lap (slanted) or on a boppy. I still don't know what I'll do about the leg strength, though. I might consult with the therapist. His Adaptive Self-Help might be time consuming but ok. While I was in the store I seen something called a Dipper. I'll allow him to play with it for a few days as a toy. Then I'll dip a little Stage 2 baby food on it and allow him to taste it. I'll only do it once a day or every other day, though. Them I'll work myself up.

Some of these things I'd like to work on alone or with my husband. It's hard to have strange people in your house (nurses) because too many times they like to overstep their boundaries and/ or invade personal mommy baby time. My son was in the hospital from birth till ten months, we have a lot of catching up to do and it's still jaded because I will always have someone intervening. I still don't understand how some people can't sit back and see what they have going for themselves. You have a mother or a father talking about how their child acts up in a store. How about a mother like me would love to take her baby to the store but cannot. The things we take for granted. I feel as though I am very grateful for my son, but don't get it wrong sometimes I break just as the next person with a human soul.

As for me well, I've been better. Nevertheless, I won't complain. Things get hard and things get better. There are people in a worse situation than I am.

Dearest Collene,

Collene, tomorrow I will celebrate your life. Your existence was and will always be purposeful. Miss Collene, you were here to teach about life and its importance.

I never fathomed that I would be writing this. It so hard to find the words to say. I still can't speak your name as past tense without feeling mistaken. I cry because you are asleep but I celebrate because you have lived. If I close my eyes, today, I can see you playing and laughing, singing and dancing, Collene you're dancing. I can't think or say what you could have been, sweetheart because I only know who you are, an angel in my eyes. I'm miss you honey.
posted by Tre's Mom @ 6:39 PM

About Me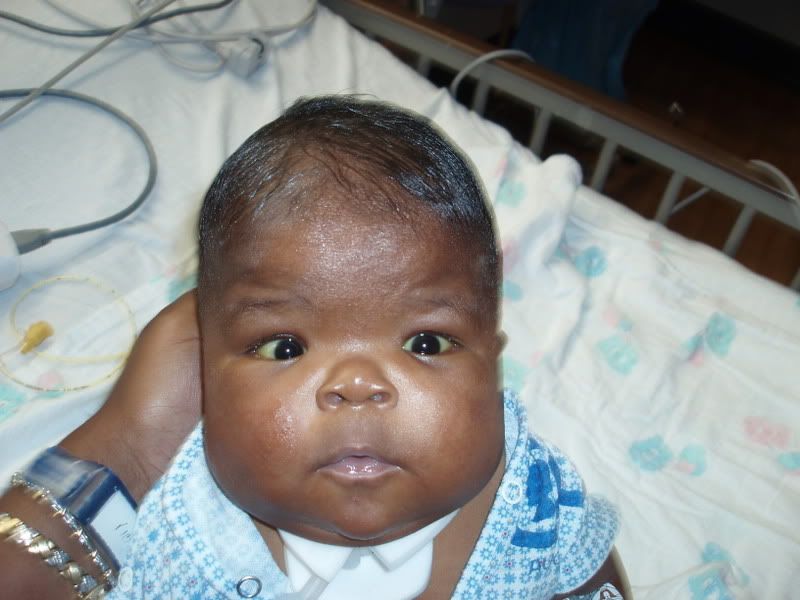 Name: Tre's Mom
Home: The Jersey Shore, New Jersey, United States
About Me:
See my complete profile
Previous Post
Archives
Tre's Friends
Links
Template By