Monday, July 28, 2008
Footloose and Tonsil Free
I'm beginning to think that absolutely nothing can be uneventful with us. For starters his surgery was almost three hours late. I was "ok" with that. I completely understand that there are emergencies and add-ons all the time. We were just getting antsy because we basically had to prepare ourselves so we were less nervous.
Once we were in the pre-op room Tre` was given a sedative to calm him down….which didn't work of course. This child was all over the place. He threw this, hit that, he even ripped off his hospital band. I don't know how he did that! I know I can't.
ANYWHO, about a half hour after entering the OR (operating room) the doctor/ surgeon called on the waiting room phone. She informed Vic that his tonsils went from 2+ to 3, she also found pus where the tracheostomy ends. We hadn't noticed any changes with his daily trach care but he also wasn't due for another trach change. She initially wanted to do a T&A but decided (without our knowledge) that she would also do a revision (to remove scar tissue on or around area) of his trach. She did a culture (which we STILL haven't received the results) and told us she could not do a revision in fear that it could cause in infection. However, a T&A would be fine.
After surgery, we spoke to the doctor. She said that despite her little discovery everything went well. He was started on antibiotics and the cultures were sent. She also wanted him to have Tylenol with Codine Q4 (every four hours). We were also given an idea about our new "game plan." If it wasn't for the bacteria he would have been capped in recovery but she didn't want to overwork him, either. Now I will schedule an appointment in about a month for round two of the capping. I'm keeping my fingers crossed.
So Tre` gets into ICU (because he has a trach) and he's so groggy. Once we went to sleep Vic and I went to check into our hotel and return. He began to wake up about an hour after our return. At about 9-ish, he was obviously in pain. It was completely obvious he was in pain. He was crying and his heart rate, saturation, and respiratory rate climbed all over the place.
I asked his nurse, "When is the next time he's due for pain medication?"
She looked at his chart and said, "There are no orders for pain meds."
"What?" Yes, I was floored
"No, there was nothing written."

"Murder, death, kill" was the only thing functioning in my now pulsating mind. Victor got to the bottom of it while I kept watch of my "cub." By the time he returned the orders were written. They ended up keeping him an extra day for observation, which is typical (that's why I booked the room for two days).
So we're back now he's so not into eating but he's talking more.
Until next time, here are a few thumbnails
: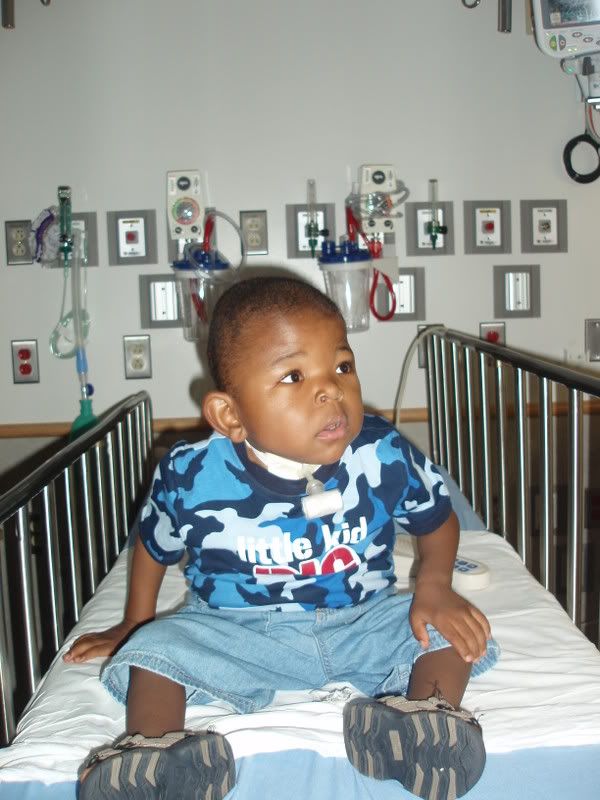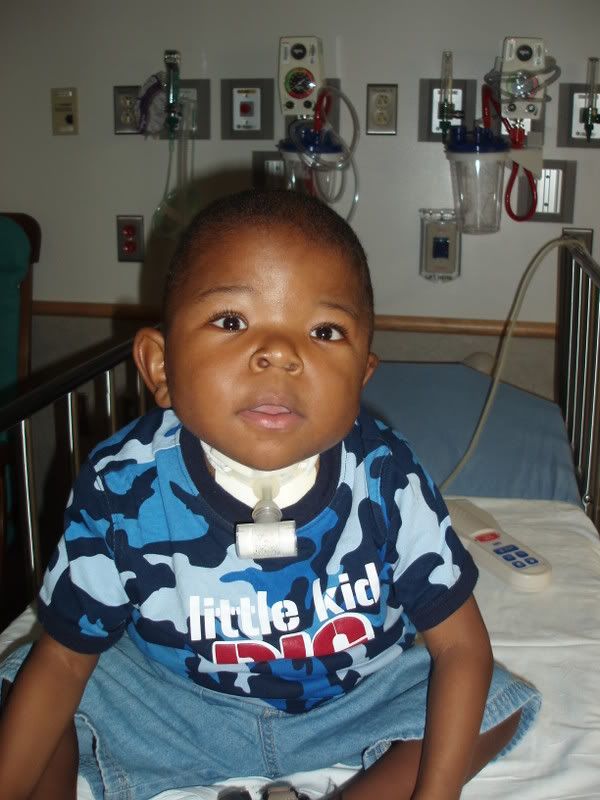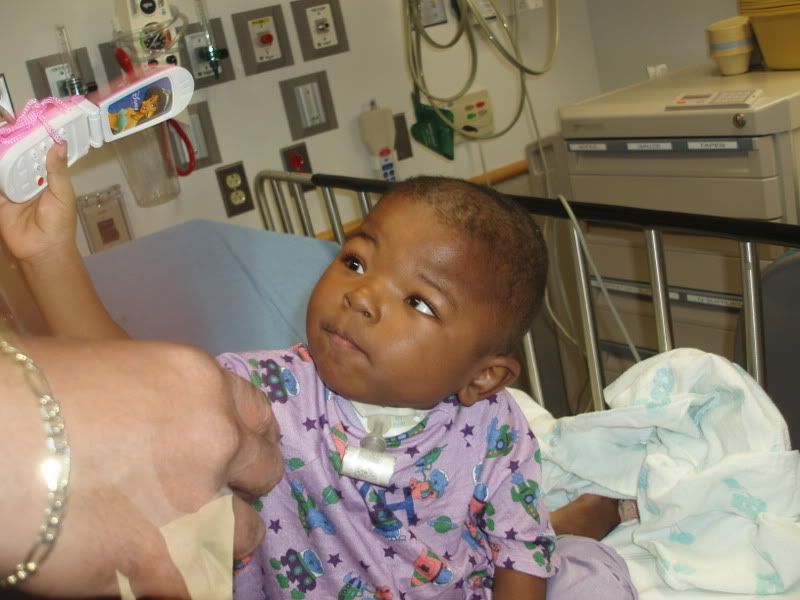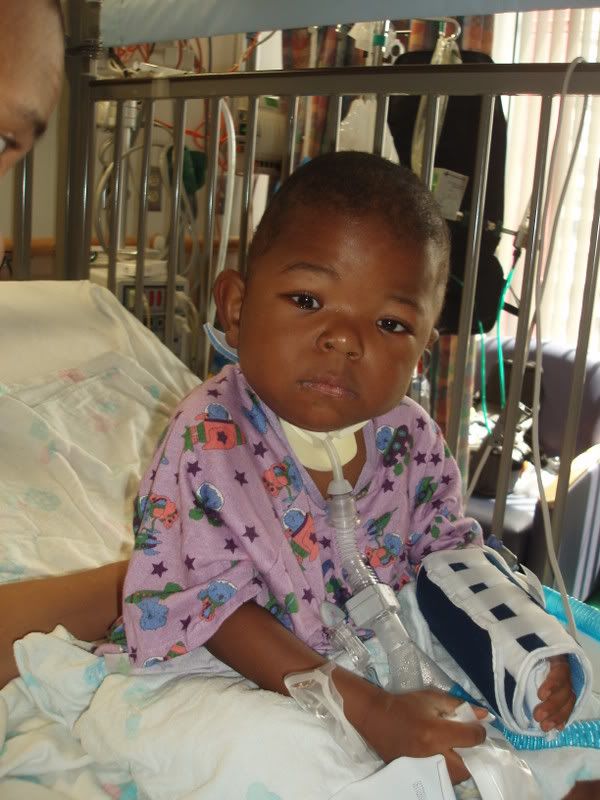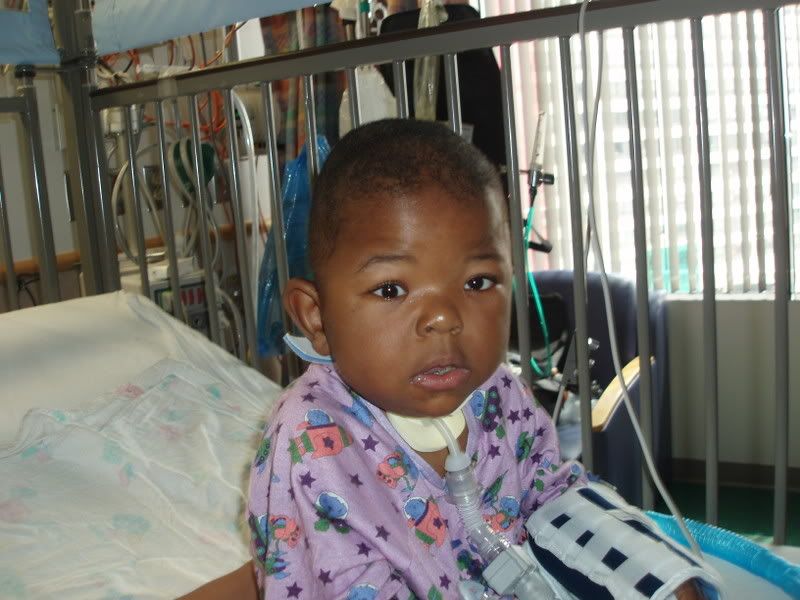 posted by Tre's Mom @ 3:08 PM

Tuesday, July 22, 2008
So You Think You Can Dance?
Tre` is what I like to call a pro crawler. LOL He finds a way to get into EVERYTHING that's not nailed down and even if it were he'd try to find a ways to get it free. He also "runs" from us when he's in trouble, doesn't want to do a task, or wants us to chase him. The kid is fast, too!
Vic and I feel that baby gates are long overdue…BTW no one told us that they were so expensive....thanks...seriously. If a door is opened he darts toward it. Don't blink because you might miss him. I tell you, if his eyes are open I won't trust him.
He also likes to dance. While mom is a huge fan of R&B and Pop fan, Tre` likes to dance to Rap, Mental, and Rock. Go Figure. The commercial on TV from Verizon with Kevin Garnet is his all-time favorite. The very moment the music starts his fingers goes up and he starts the boogie! He'd stop whatever he's doing (eating, playing, talking) just to dance. Once the music is over he'll return to what ever he was doing before. He's also a fan of the Early Edison commercial. He doesn't dance but he'll stop to watch America's 2nd worse commercial. He does acknowledge the worse of all time, though. Phew WTH is he doing with his foot in the being of that commercial!! Huh?!? JUST by the commercial alone. I would NEVER use their service.

(Back on subject, I just blacked out a little) So I'm having an issue with his PT (physical therapist) as well. Tre` uses W-sitting and while it's improved she seems to make that her main focus. It wasn't her that got him to crawl, either. It was between daycare, Vic (his dad), and myself. I'm not seeing enough results with EI these days. I don't know if I'm just expecting too much or they really need to get the ball rolling. I'm not asking for Tre` to walk by the end of the week but make some attempts and give me a few pointers. I know it's in him, we just need direction. This is so frustrating. Am I asking for too much or not enough?
For some time he was using a stander. It was provided (owned) by EI but used at home. One day the therapist recommended that she used the stander at daycare, since he was having his sessions there. That was almost six months ago. So initially, I though that he just wasn't ready and THAT'S why there was no improvement….
Then one of the nurses asked, "Dwana is it okay if we use the stander here?" I was dumbfounded. I said, "Why wouldn't you? It's not there?" She said, "No it never was."
Now I haven't been in contact with EI for a month now. Why? Well we never get bills, just letters with a summary of visits that said, "This is not a bill". So we were suspended for nonpayment. This is the second time this had happened. Then by the time we get notice of suspension, he's already suspended and the bill is 5 or $600. I don't know about anyone else but I'd like to get the bill much sooner before it gets that high. Anyway, that's another story.
ANYWHO, she has been so focused on one thing and I believe Tre` is suffering. I need to find out how to get his OWN stander and the proper steps that should be taken for it.
A few weeks ago he was at his cousins' birthday party. He wanted to play with the other kids but it was in a park (dirt area) and they were running all over the place. I felt so bad that he was stuck with the adults being passed around. The kids wanted him to play different games but it just wasn't happening. Why can't we work on W-sitting and something else? Yeah…so he's getting a new therapist…soon! I don't have time for this.
posted by Tre's Mom @ 10:02 AM

Monday, July 21, 2008
What Chu Talkin Bout
There are many updates, questions, and concerns that I don't know where to begin. Tre` has come such a long way, it makes me so proud. For a child that wasn't given much of a chance (even at life) he's proven so many wrong. I was told that my child would be vent dependent for life. He'd be nonactive or never have use of his legs. We were even told that he wouldn't smile. Boy oh boy! I TOLD you so! We're just scratching the surface. He has major delays but everyday he does something new.
He still uses his G-Tube overnight for calories. However that may be shortly lived because he's an eater! Ha ha ha! Oh boy he eats pureed foods or Gerber stage 3. I said Gerber because some of Beechnut stage 3 foods are too tough. Tre` hasn't mastered the art of chewing. No way, get it in and down. No chewing. The ST (speech therapist) from EI (early intervention) is a little slow on her game. She's more concerned with him speaking and playing but not with chewing. Well, any mom would like to see her child play and hear him/ her speak but chewing seems very important. Umm, choke hazards? He loves to feed himself (his hair, ankle, clothes, etc) chocolate pudding and yogurt. This child also has the audacity to have a temper tantrum when all the food is gone. This is the same child that refused ANY PO (by mouth) feeds!

He has a few "bad habits" with eating. For instance, he refuses finger foods (i.e. cookies, crackers, etc.) If he or anyone touches the food he won't eat it. However, if it's on a spoon he will attempt. No forks. He wouldn't even acknowledge you if you try to feed him with a fork. Spoon only! Lastly, if he gets food on his hand or fingers, he's done. Not only does he want to be cleaned up but dinner is officially over. It's ruined. There's a "claim" that I did the same thing as a child but there's no documented evidence.
We are talking, too. Both with and without the speech valve! He says words and phrases. Unlike his parents, he's quick to talk you to death. OMG! You have NO idea. His favorite words are shared by many other two year olds: Mom, No, and Dad. He also likes, "I did it, Elmo, YaMa (GrandMa), Cock Cock (mean PopPop,
hey you can't correct everything), Morning, Night Night, Oh No, Bub (Bubbles), YumYum, Yuckie, Amen, Stop", and MUCH more.
He's tipping the scales at approximately 28lbs and 33in in length. He can wear a 4t but I dress him in 5t. I remember buying his outfits and they'd only be worn twice. Won't get ME again, LOL!!! He's in a size 5 diaper…snugly so I just started 6's. They seem a little large but no one has invented a 5 1/2, yet.
We don't have home nurses so as you all know we worked out a deal with his doctors by sending him to a medical daycare. It's basically, a daycare with nurse staff and kids not ready for regular daycare (anywhere from allergies to g-tubes.) While I don't care for daycares all too much, Tre loves it. It's been a great developmental piece. He's learning, making new friends, and he was awarded Class Cutest. LOL
He has a new nickname. The staff at daycare calls him Nature Boy. Well, he has a habit of disrobing and swinging his clothes over his head. At home it's the clothes AND diaper (
with or without surprises inside.) He finds his nakedness EXTREMELY amusing!
posted by Tre's Mom @ 6:35 PM

Number 14
Soooo this is surgery/ procedure number 14 for Tre and I'm a nervous wreck for more than one reason. First, HELLO it's surgery. Second, I'm worried about possible infection, side effects, and his discomfort. I've heard people talk about eating ice cream, etc. Well, this kid doesn't like ice cream! The closest thing I'd have to give him is Italian ice (he shares RARELY with his dad) or yogurt.

He was always able to bounce back after a procedure earlier on but they were also so close together. I recall a time where he didn't cry with shots/ immunizations and later his world was caving in if he saw a needle. WTH. This is a child that would bump his head and act as if nothing happened. NOW, when he bumps his head he is so emotional.

He's due for a tonsillectomy on the 23rd. After his bronc it was discovered that he had 2+ tonsils and very minimal scar tissue (which caught everyone by surprise.) The scar tissue was so insignificant that she may not bother with it during surgery. Children and adults with trachs will have some scar tissue but with Tre's history we expected a lot more. He still occasionally pulls at his trach and it's rushed back in but obviously without damage. We were told that he will be there overnight or longer. I've been so nervous about this that I haven't been able to function.

This is a very important procedure. His ENT doctor believes that it will improve his chances of kicking the tracheostomy. She attempted to cap (The cap is designed to facilitate tracheostomy tube weaning and voice restoration. These caps are intended for use with fenestrated or uncuffed tracheostomy tubes only. ) him in her office but was unsuccessful. He was working too hard for anyone's comfort. In his defense, dad and I knew he was ready but Tre` had JUST started a cold. He was congested days before his appointment.


So we're at #14 and sadly there's more to come. We'll cross that bridge when we get there...not before.
posted by Tre's Mom @ 5:15 PM

About Me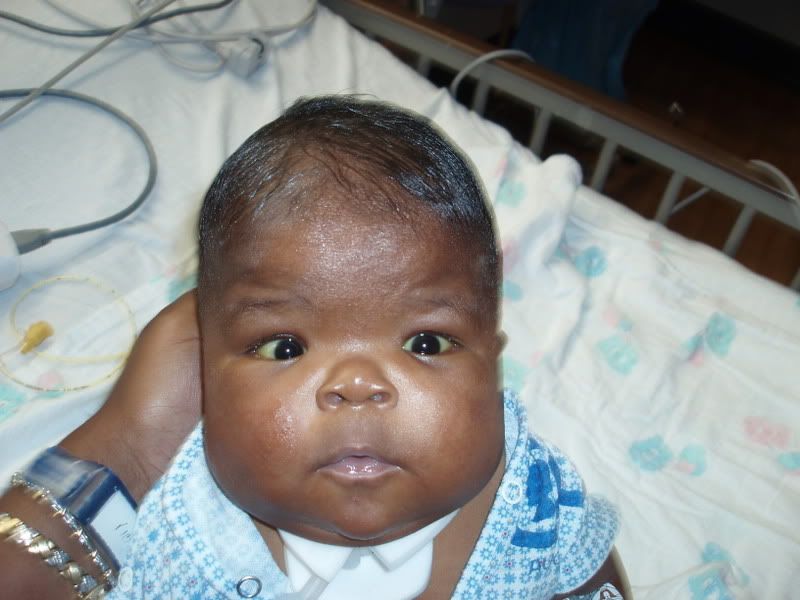 Name: Tre's Mom
Home: The Jersey Shore, New Jersey, United States
About Me:
See my complete profile
Previous Post
Archives
Tre's Friends
Links
Template By