Saturday, September 8, 2007
It's Been A Long Time, Huh? Here's the Short Version
Attention Misty
and Jessica
. Thanks for checking up on us religiously! You are such a sweetheart. Tre's new Auntie
s
. Here goes typos and all.
LOL

Victor stayed home from work this past Thursday because he needed an MRI for a shoulder injury he got while playing ball. I was at my school frantically looking for my class. When I got there at EXACTLY 10a, the class was empty. I later figured out that I was a day early for school! I was soooooooo upset. I've been saying my classes started Friday but Victor insisted that it was Thursday. It was my fault for not looking at the schedule. I did however get a feel for the timing, though. At around a quarter to 4p, we were home together when Tre came home from daycare. Victor and I went outside together to bring him in. Tre was his usual self, when he got home. He was playful, babbling (yes he can!), and happy. He did his normal "Ma, ma, ma" "Mom, ma, mammmmmmmm." Victor and I looked at each other. We've heard him say mom a million times but this was different. As we zeroed in he continued rambling and babbling. It was when he coughed that our unspoken thoughts started to converse with one another. Coughing is normal because of his increase secretions and reflux. It was like his babbling...it was clear. It's supposed to sound raspy or low. Not all people can hear him most of the time but this was as clear as day! "Is the trach" we said in unison. Instantly Victor lifted his cheeks and hydrosorb . while I looked and sure enough the tracheostomy was not in the trachea.
It was laying outside on his neck! He scooped up and rushed upstairs to the bedroom where he can be properly positioned. We COULD NOT get the original trach back in. I grabbed another trach and still couldn't get it in. Victor tried to put in a size down and was unsuccessful. The stoma was closing. It's obvious his trach had been out for some time. This is not the first time his trach came out. I'm talking hours! We grabbed the baby ad a few more trach, in case I could get it in on the way to the hospital.

On the way to the hospital I dialed 911 and we were instructed to pull into the police station, which was right across the street from where we were. I had
NO IDEA what they could do that I couldn't but we complied. As we pulled in to the driveway, they acted as if they didn't know we were coming. I ignored their ignorance and asked an officer (whoever was listening) if they had any surgilube. I grabbed everything BUT surgilube.
It must have went completely over his head or he never seen anything like what was happening in front of him because he looked lost before he uttered, "huh." An ambulance pulled behind us and I gave them a full history in one breath. Victor went back home to get more supplies (we are not confident in our local hospital...at all) while I was in back with Tre.

When we got there we had to wait for a bed. I started to get flashbacks of the last time I was in that emergency room. I was hemorrhaging with a threatened miscarriage. While I sat in the waiting area they took in sprain ankles, upset stomachs, and other noncritical issues. I was there until the next day.

Anyway, I held him closely and then realized. He's OK. Not one time did he show me he was in trouble. The only time he cried was when he was being held down. In fact he laughed A LOT. I didn't want to get too comfortable because anything can happen at this point. We finally got a room and again I tried with the trach. I asked if they had any trachs on hand and as suspected, they didn't. I can't STAND that hospital. Urrrgh!!!


The doctor skips in with a look that he either won his license or he got his medical experience from someones basement. He didn't even look at the sink. I tried to keep my cool the best way I could, while watching this "doctor" repeat the same questions while trying to figure out how he can be considered a hero! Give me a break! When handling a trach it should be in a clean manner if sterilization isn't an option. I THOUGHT being we were in a hospital we ALL knew that. No not this guy. Not only did he try to sit the trach down on the counter and reuse it but he THOUGHT he was going to use a suction tube that fell on the hospital floor. Not on MY watch. He thought he was teaching me something by trying to convince me that you should only use the smallest amount possible of surgilube. Common sense would tell the most ignorant person that you'd want to "lube it up." It was official when he thought he had to rub the lubricant in. He eventually gave up on the trach and got an ET tube and luckily it slide right in...and in...and in..and "Wait what are you doing!?!?! Are you serious, you can't do that!" Not one time did he measure how far he was going down and Tre' was busy coughing and crying. I wasn't sure if it was due to pain, irritation or agitation. Either, or, and, or whatever, it was making me mad! I told him to stop. He that if he didn't get an ET tube in the trachea than he would have to be intubate. That hurt but seeing him being tortured hurt more. He thought it was going to intubate him awake. This man does a lot of thinking...now if we can only get him to make sense???


Surely, I am terrified of him being sedated, especially involving this quack that thinks but I wouldn't want him to go through that awake. So far he has been a good boy. I mean STILL showed no signs of respiratory distress and he's been trach-free and vent free for four or five hours right now. I know he has laryngomalacia and tracheomalacia and it's my understanding that things can go back QUICK.

At this point I told Victor to meet Tre' and I at CHOP. He didn't want to leave but he had no choice really. About a half hour of Tre' and I being alone a nurse came in the room and said she didn't think I would be able to be transported in the helicopter with him and it was uncommon for it to happen. For a brief moment I got nervous. It wasn't until I repeated what she said over the phone
for me to realize, exactly what she was saying. I wasn't having that. She thought that I was going to have my child up in the air and/ or doing something that I haven't done...alone. I flat out told her that I didn't care if they had to leave a team member behind so I can fly. It wasn't happening and I made it clear. However, she reluctantly repeated herself and added she'd see what they said. I told her to tell them the same thing.

When the crew came in the room I gave them a history and ended it with, "Oh and I'm flying with him." The male crew member spoke up and said I could fly. I thought everything was everything at this point. Nope, I was so wrong! The female crew member made a statement that made sense to me then but not before. Tre' couldn't fly unless he had a stable airway . His trach had been out for sometime and every precious hour allowed his stoma to close even more.

I could see that the crew was extremely displeased with the doctor. The female went to the helicopter to see if she can find other supplies that the hospital didn't have. The second crew member (the gentleman) took over and rigged the ET tube in his trach before she returned. It wasn't 100% stable but it was the best they could do considering the circumstances. The doctor prescribed ativan so he'd be relaxed while in flight. I think I needed it more than him because the air and I don't have a great relationship...at all! Anyway, as many should know, medication is dosed according to weight. Dr. Looney Bin asked me for his weight without confirmation. I know that the window is pretty vast for prescribing certain medications but if I was completely loosing it would you really take my word for it? So, he told the crew, "uh, yeah, if he needs more while he's up there you can go ahead and..." "Yeah, once we leave out those doors another doctor's in charge." The guy cut him off. I just smiled trying to hold in everything I had built up. We were heading out

I'm not going to get into the "how was your flight." LOL OK? After an examination by the ER docs at CHOP (the real doctors) examined him, they called in for respiratory. They in turn called ENT who examined him and got the trach successfully back in. They believe that his trach was out long before we discovered it. Thank God we did. If it wasn't for him calling for his mom it would have more critical moments in between.

Tre' is in a Medical Day Care during the day as per doctor's orders since we don't have a nursing agency. They have nurses, aides, and a therapist there at all times. How n th world was his trach able to be out for so long and NO ONE noticed?



posted by Tre's Mom @ 11:03 PM

About Me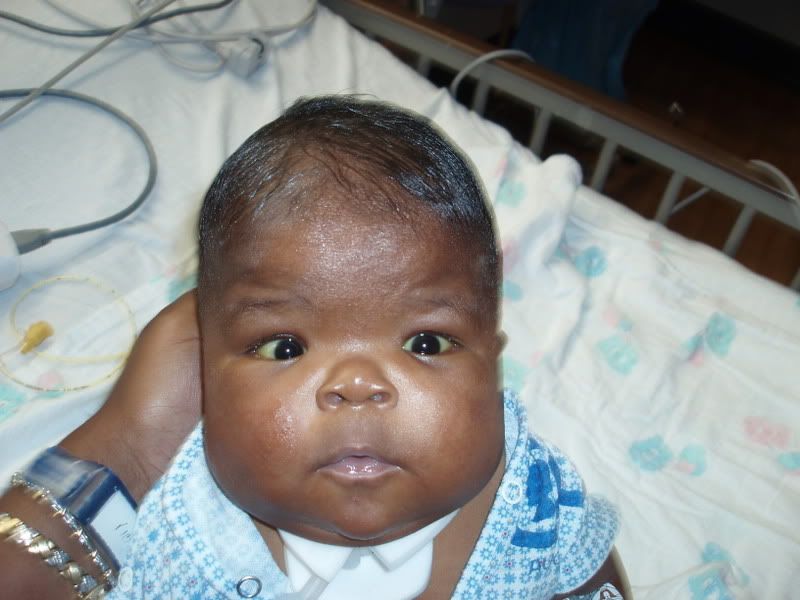 Name: Tre's Mom
Home: The Jersey Shore, New Jersey, United States
About Me:
See my complete profile
Previous Post
Archives
Tre's Friends
Links
Template By